Fruit cake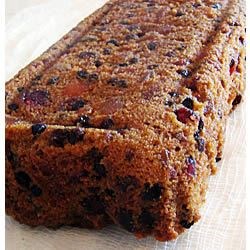 Original recipe makes 1 6-inch round panChange Servings
1/8 cup chopped dried cherries
1/8 cup chopped dried mango
1/4 cup dried cranberries
1/4 cup dried currants
2 tablespoons chopped candied citron
1/4 cup dark rum
1/2 cup butter
1/4 cup packed brown sugar
1 egg
1/2 cup all-purpose flour
1/8 teaspoon baking soda
1/4 teaspoon salt
1/4 teaspoon ground cinnamon
1/4 cup unsulfured molasses
2 tablespoons milk
1/4 cup chopped pecans
1/4 cup dark rum, divided
Directions
Soak cherries, mango, cranberries, currants, and citron in 1/4 cup rum for at least 24 hours. Cover tightly, and store at room temperature.
Preheat oven to 325 degrees F (165 degrees C). Butter a 6x3-inch round pan or loaf pan and line it with parchment paper.
In a large bowl, cream together butter and brown sugar until fluffy. Beat in egg. Whisk together flour, baking soda, salt, and cinnamon; mix into butter and sugar in three batches, alternating with molasses and milk. Stir in soaked fruit and chopped nuts. Scrape batter into prepared pan.
Bake in preheated oven for 40 to 45 minutes. Cool in the pan for 10 minutes, then sprinkle with 2 tablespoons rum.
Cut out one piece parchment paper and one piece cheesecloth, each large enough to wrap around the cake. Moisten cheesecloth with 1 tablespoon rum. Arrange cheesecloth on top of parchment paper, and unmold cake onto it. Sprinkle top and sides of cake with remaining rum. Wrap the cheesecloth closely to the surface of the cake, then wrap with paper. Place in an airtight tin, and age for at least 10 weeks. If storing longer, douse with additional rum for every 10 weeks of storage.
Kerstkrans - Christmas Ring
Ready bought.
Puff pastry home made or
1 Egg
Peeled almonds
3/4 cShelled, blanched and
Peel of one lemon
Apricot preserve
1/4 cGranulated sugar
5 Candied cherries
Ads keep BigOven free. Remove ads with BigOven Pro
Kerstkrans - Christmas Ring Preparation
The filling is best when made some weeks in advance. Store in jar in the refrigerator. To make the filling, grind almonds very finely, add the sugar and the egg and the grated peel. Mix well. Grind again. Store. When necessary knead through and add some water if paste is too stiff. Make the puff pastry your favorite way. Roll out into a long strip of 1/8" thick, 4" wide. Brush your baking sheet with water. Take a pancover that will nearly fit the baking-sheet. Put it in the middle and trace the circumference, this will guide you when forming a ring. Shape almond paste into a roll of nearly the same length. Press 10 halved candied cherries at equal intervals into the almond paste roll. They must not be visible anymore. Now place the almond roll on the dough, a little above the center. Wet the lower part of the dough with water and wrap it loosely around the almond paste roll. Put it on the baking sheet; the ring will "guide" you. Seal the seam well and turn roll until the seam faces down. Form a ring by joining the two ends together with some water. Brush with beaten egg. Allow to stand in cool place for 15 minutes. Then bake for 20 minutes in a hot oven. (450 F) until golden brown. When done, coat the ring thinly with preserve and decorate with candied cherries, candied orange peel. Tie a ribbon round the ring where the 2 ends meet and decorate with holly.